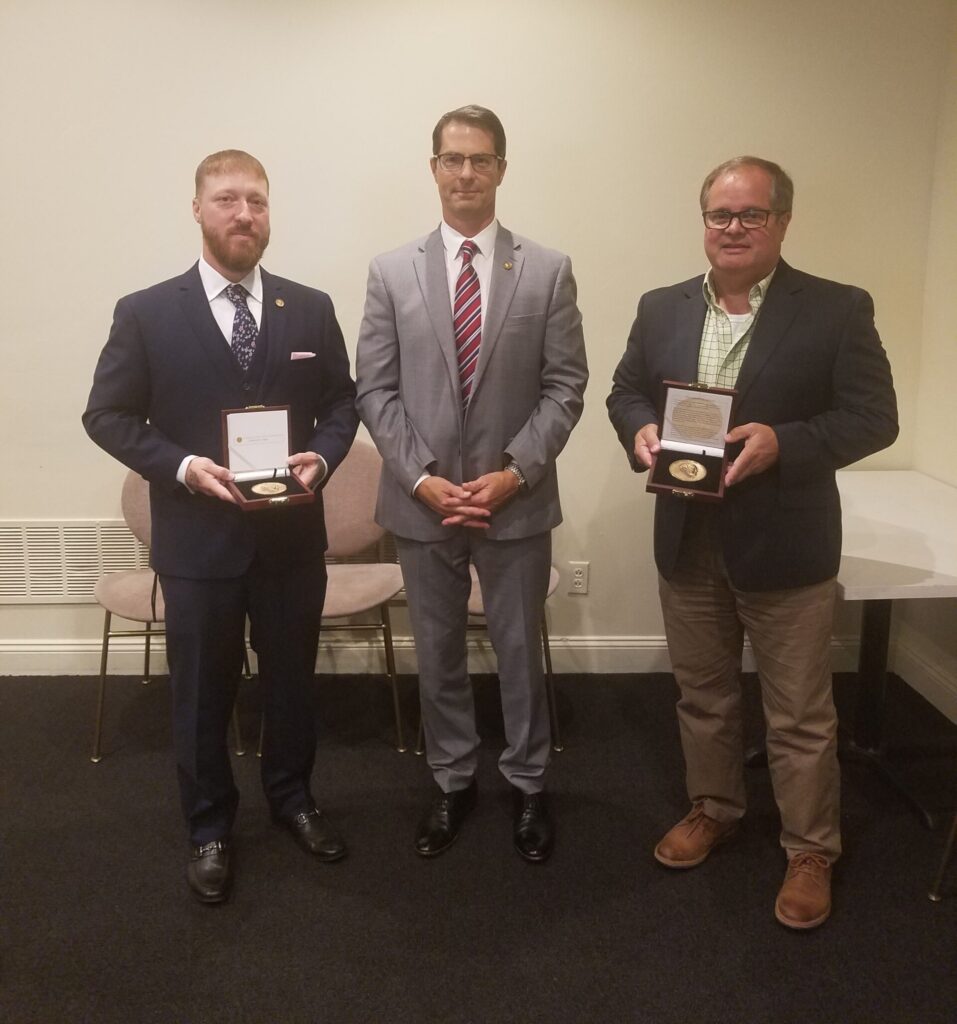 Hero Fund President Eric Zahren, center, presents the Carnegie Medal to Christopher Lee Taylor, left, and Patrick J. Driscoll, right, during an Aug. 9, 2022, private luncheon at Coco's Bistro in Dayton, Ohio.
Though the two awarded acts were unrelated, the two heroes agreed to a joint presentation, each travelling about 40 miles from their respective homes to receive their Carnegie Medal.
"In the consideration of heroic acts, we typically focus on one individual in one moment in time. But today we are fortunate to celebrate and recognize two separate moments in which two people acted in behalf of strangers," said Zahren.  "These men had not previously met. But in their meeting today we see the commonalities in the hearts of these heroes that transcend time and distance."
On Oct. 13, 2020, in New Carlisle, Ohio, Driscoll rescued a couple from their burning and overturned plane after it crash-landed in a field. Driscoll, also a pilot, rushed to the passenger side of the plane, crouched atop the plane's wing, which contained a fuel tank, reached inside, and released the passenger's seat belt, freeing her. He escorted her a few feet away from the plane before approaching the pilot's side. He again crouched atop the wing as flames intensified and spread before reaching inside to unbuckle the pilot's seat belt. He pulled the man from the plane and carried him to safety before the aircraft was engulfed in flames.
A mere 18 days later, Taylor rescued a man from a burning house after a two-story Greenville, Ohio, home caught fire on Oct. 31, 2020. Taylor, a forklift operator, was driving nearby when he noticed an orange glow coming from the second story of the home. He approached a side door and, unsure if anyone was inside, ducked into the doorway and called out. Taylor heard the man moaning and entered the house. Navigating thick smoke and intense heat, Taylor made his way up the stairs, where he found the man unconscious near the top. As flames moved closer to them, Taylor picked up the man, cradling him, and carrying him down the stairs and out the side door to safety.