During summer 2019, Saint Vincent College rising senior Anna Zahren interned for the Carnegie Hero Fund alongside returning intern Lauryn Maykovich.
Their primary focus is designing and editing the Commission's Roll of Honor Vol. 1, which will display the names of the Carnegie Heroes Nos.1-9,991.
Zahren's journey to the Hero Fund is a personal one — her father is Carnegie Hero Fund President Eric Zahren, and she and her family continue to be directly impacted by a Pittsburgh shooting that occurred a decade ago.
ANNA ZAHREN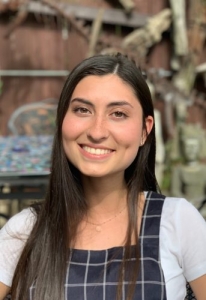 Out of all the places I have traveled and all the places I have lived, Pittsburgh will forever be my home.
I have spent the last 10 years of my life living here, growing up with family, meeting lifelong friends, exploring the city, and discovering my passions through studying communication and graphic design at Saint Vincent College.
Both of my parents were born and raised in Pittsburgh and their families still reside here to this day.
Family means everything to me, and I am always the happiest when all the grandparents, cousins, aunts, and uncles are together.
April 4, 2009, was the day that changed our lives forever. We hadn't yet moved back to Pittsburgh, but were planning to visit during spring break, when we received a call saying that my Uncle Paul, a Pittsburgh police officer, as well as two other officers were ambushed and killed after a response to a domestic violence call.
This unexpected event shocked my family and the city. We had to heal together from this tragic event through supporting one another.
The bravery of the officers and willingness to risk their lives for the safety of others is inspiring and forever left an impact on me.
Learning about the Carnegie Hero Fund Commission through my dad has opened my eyes to how much good is in the world, especially in the wake of such a family tragedy.
Honoring the lives of people who commit such selfless acts of heroism through the graciousness of Andrew Carnegie's foundation is incredibly inspiring.
Remembering those who risk their lives for the safety of others is an incredibly admirable attribute of the Carnegie Hero Fund Commission.
I think about my uncle when I'm in the office as I look through the pages that lists all of the heroes' names. It reminds me to stop and remember not only their name, but also their story, their family, and the impact of their selfless act.