The Carnegie Hero Fund Commission is pleased to announce the recent election of two new members.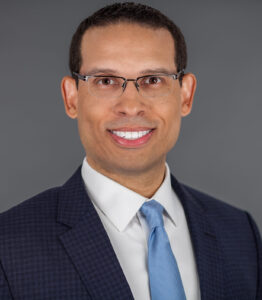 Duane D. Holloway is a senior vice president, general counsel, and chief ethics and compliance officer for U.S. Steel, where he is responsible for all legal, ethics and compliance matters, environmental affairs, corporate governance, and managing relations with the Board of Directors. Before joining U.S. Steel in 2018, he served as executive vice president and general counsel for Ascena Retail Group, and held prior leadership roles at CoreLogic and Caesars Entertainment. A graduate of the University of Virginia and University of Pennsylvania Law School, Holloway also serves on the board of directors for the Minority Corporate Counsel Association and Allegheny County Parks Foundation, and is on the executive leadership team of the March for Babies in Western and Central Pennsylvania.
Dara Ware Allen is the CEO and principal of City Charter High School, which boasts a 94% graduation rate and is recognized nationally for its innovative education model. Prior to her work at City Charter, Allen served as assistant superintendent for Pittsburgh Public Schools, COO and program director for Leadership Pittsburgh, Inc., executive director of YouthWorks, Inc., and director of the Educational Opportunity Centers of Southwestern Pennsylvania at Penn State University. Holding a bachelor's degree from Spelman College, a Master's from Duquesne University, and a PhD. from Pennsylvania State University, Allen currently serves on the Remake Learning Advisory Council and the Pennsylvania Coalition of Public Charter Schools Advisory Board, and she sits on the Board of Directors for the Pittsburgh Downtown Partnership and YouthPlaces.
"Both Duane and Dara are strong leaders in their fields, and we are excited to have their perspectives on our board. Their breadth of experience and passion for the Hero Fund's mission will further strengthen the Hero Fund's work," said Eric Zahren, the Hero Fund's president and chair.
In addition, longtime board members Mark Laskow and Dan Sandman received emeritus status at the Commission's annual meeting held in June. Laskow and Sandman reached the maximum age of service as a regular member, but will "remain in our ranks" as emeritus members.
Laskow was elected to the board in 1992, serving at the helm of the organization since 2001. Sandman served for 21 years, including as treasurer of the organization for the last decade. 
Any success [of the Hero Fund] in effecting the charitable purposes ascribed to it by Andrew Carnegie is due in no small part to the selfless participation and skill of its members, as exemplified by these individuals, who have to date served for a collective 52 years fulfilling Mr. Carnegie's vision for the Fund," stated a resolution that was read at the meeting.
Also at the annual meeting, commission member Evan Frazier departed the board after serving for seven years. Frazier was elected to the board in September 2015. 
According to Zahren, Frazier "provided solid and consistent counsel and initiated and supported advances for the Commission's staff and board" at a "crucial junction in the Commission's development."
Frazier said he was thankful to have served the Commission and participated in its mission to recognize civilian heroes. 
"Being apart of this organization, this Carnegie family, has been a rewarding experience, and I am honored to have served," he said at the Commission's annual meeting held in June.