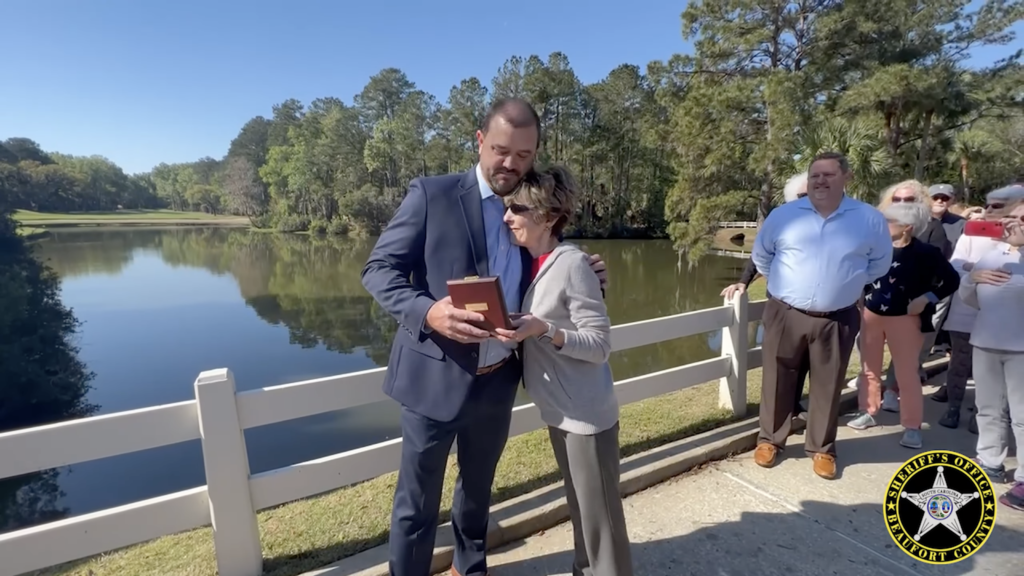 Carnegie Hero Kenneth Brian McCarter (left) reunited with the woman he saved in a ceremony where she presented him with the Carnegie Medal. Carol S. DeLillo was working in her Okatie, South Carolina, garden in the evening of July 3, 2020, when a 10-foot, 275-alligator dragged her into an 8-foot-deep pond. McCarter, then 44, saw DeLillo struggling in the water and rushed to the scene. McCarter swam to DeLillo, grasped her about the torso and pulled, but was met with resistance and was pulled under the water's surface. Pulling her to the surface a second time, McCarter dragged and pushed her 70 feet to the bank. DeLillo had multiple surgeries and regained the ability to walk with a cane, though she continued to receive physical rehabilitation. McCarter was not injured.
Despite having both left the Okatie community, they returned March 4, 2022—- to the very bridge where McCarter saw that DeLillo was in trouble -— for the Carnegie Medal presentation.
As they embraced, DeLillo spoke about how grateful she was for McCarter.
"It makes you realize how wonderful and special he is," she said.