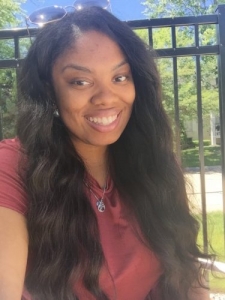 Hero Fund Commission scholarship recipient Niya Townsend, 22, from Detroit, will graduate with a degree in entrepreneurship and a minor in youth studies from Central Michigan University in December. She excelled in her role as a campus leader, served as a volunteer in the local Mount Pleasant, Mich., community, and performed as a member of the Rampage Dance Team.
In 2010, Townsend's father Garrett T. Townsend, Jr., was posthumously awarded the Carnegie Medal after he died helping save a 7-year-old boy from drowning. The boy entered a residential construction site and fell into an excavated pit, 15 feet deep and partially full of about 10 feet of murky water. Townsend, a 58-year-old financial planner, was inside his nearby home when he became alerted to the boy's plight. Despite having limited swimming ability, he entered the pit and held the boy up before submerging himself. Another man swam to the boy, and they were removed to safety. A police officer who had arrived entered the pit and located Townsend who emergency personnel then removed from the pit. He was taken to the hospital, but he could not be revived.
As Niya Townsend prepared for college, she said it brought her peace of mind knowing she could continue her education with scholarship assistance from the Hero Fund.
"My father was very big on education. Although I would love to have my father here with me, I know he is still proud of me," she said.
In an email to the Commission, Townsend wrote that without the added financial stress of paying for a college education, she focused on grades and extracurricular activities.
During the past four years, Townsend said she has formed meaningful connections with her peers through participation in campus organizations that celebrate diversity.
Starting her freshman year, Townsend became involved with the Organization for Black Unity, serving on the executive board as a representative for the group, then fulfilling the roles of vice president and president.
According to the university website, the organization was established by students in 1976 and is committed to maintaining a strong minority presence on campus and in the community. Members promote high academic standards, community service, and support and present culturally informative events to create a bridge between the minority and non-minority communities.
"[The organization] has been successful in making students feel confident in their ability to express themselves because we care," Townsend said.
During her time as the student government association representative, Townsend acted as a liaison between the organization and the student government body, serving as a member of the diversity committee, which included planning the group's annual fashion show from start to finish.
"Our last fashion show had more than 800 people in the audience, including family members, friends, students, staff, and local fashion designers," Townsend said.
Townsend's duties, along with fashion directors and other executive board members, included booking venues, stage design, and finding vendors for the show including T. J. Maxx, JCPenney, Kohl's, and individual designers.
Apart from the annual fashion show, the organization held round table discussions ranging from matters of race relations and police accountability to implementing positive communication in relationships.
Townsend said she found it rewarding to lead her peers and develop friendships with those who served on the executive board during the 2018- 2019 school year when she served as president.
"When you have a good team behind you it makes leading an organization on campus that much more fun and fulfilling," she said.
Nominated by members of the organization's executive board, in fall 2018 Townsend received a university E-board excellence award for her leadership.
Townsend also served as volunteer coordinator for Phenomenal Brown Girls, an organization she described as being dedicated to making black and brown girls on campus feel powerful and love their skin.
As volunteer coordinator, Townsend planned events including a hygiene drive for woman and a canned food drive.
In addition, she volunteered in the local Mount Pleasant community, specifically at the Salvation Army, Goodwill, and in Flint, Mich., as part of an alternative spring break, where Townsend worked at the Whaley's Children Center.
"We helped clean up the donation center, which contained clothes, hygiene products, and school supplies. Afterward we went to play with the children that lived there. It was one of the most fulfilling things that I've done during my time at [Central Michigan University]," she said.
When she's not volunteering, Townsend said she enjoys dancing for Rampage, the university's dance team. The team competes statewide and performs on campus. They also host an annual showcase, inviting fellow students and individuals from other schools to participate, she said.
In November 2018, the team placed first at a competition held at Western Michigan University.
"[Winning the dance competition] is my favorite memory with the team because we worked super hard for the competition, and we were all so grateful to have won," she said.
As Townsend wraps up her undergraduate studies, she said she is most proud of the connections she has made and credits the inspiring environment at Central Michigan University for helping her come out of her shell. "I have met some really great people who have helped me a lot during my four years. Their leadership, compassion, drive, and communication are all inspiring to me," she said.
In April 2019, Townsend welcomed a baby boy.
"He pushed me even harder to go for what I want in my life. I was already a hardworking and determined young lady before he came into my life. With him here now, he pushes me 10 times harder because I want nothing but the best for him," she said.
After graduation Townsend plans on attending graduate school to eventually open a community center in Detroit.
"When I think back to my childhood, my parents always had me involved in different summer or after-school programs. I found those to be very helpful for my life, even though I was young. I want other children in Detroit to have those same opportunities and experiences that I did," she said.
Congratulations, Niya!
— Abby Brady, operations and outreach assistant/archivist
---
Related articles: