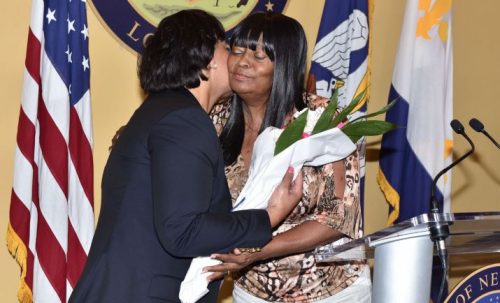 New Orleans Mayor LaToya Cantrell, left, hugs Doretha Williams, who accepted her late husband's posthumously awarded Carnegie Medal. Cantrell and New Orleans Fire Chief Tim McConnell presented the award to Williams during a ceremony held May 13, 2019, in the press room at Cantrell's office.
Frank Williams, Jr., died Dec. 5, 2017, helping rescue a 25-year-old man from drowning. Williams, 50, restaurant cook of New Orleans, removed his boots and dived into a 10-foot-deep canal to swim toward a submerging vehicle. He reached a passenger of the car and began to move him toward the dock while struggling to keep him afloat. Eventually, Williams submerged, while others were able to remove the passenger from the water.
"It mattered then, and it matters now, and we want to make sure it continues to matter in the future of our city. New Orleans will not forget this act of kindness and heroism," said Cantrell during the ceremony.
Frank Williams's nephew Tyrone Williams Jr., lauded the way his uncle lived his life to local reporters. "He goes above and beyond — not just for family members or friends — for anyone in help or in need," he said.
Related articles: