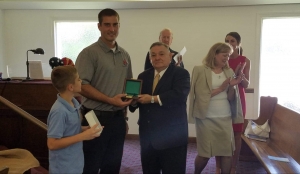 D. J. Connelly is seen admiring his dad's Carnegie Medal after a July 14, 2019, ceremony in which Carnegie Hero awardee Glenn S. Bingham presented the medal to David J. Connelly at the Calvary Baptist Church in Williamsburg, Va. Connelly's parents Dave and Cindy Connelly and family friend Megan Ciesielski applaud in the background.
"It was a great honor for me to be able to present this medal to Mr. Connelly," Bingham said.
In December 2016, Connelly, a crane inspector of Providence Forge, Va., rescued a couple in their 60s from drowning in a submerging vehicle in Doswell, Va. The couple was on an interstate highway, when an accident caused their vehicle to roll over a concrete barrier and fall into the Little River below. Connelly ran down an embankment and, fully clothed, entered the river and swam to the vehicle. He pulled on the driver's door, forcing it open, and entered the sinking car. He unlatched the driver's seat belt, grasped him around his arms, and removed him from the vehicle. Connelly then reentered the vehicle and submerged to unlatch the passenger's seat belt, and then grasped her around the arms and pulled her from the car. Holding to both the husband and wife, Connelly maneuvered them to the river bank.
Bingham, who was awarded the Carnegie Medal in 2002 for a water rescue of a 10-year-old boy, volunteers to present the Carnegie Medal to newly awarded heroes near his home in Williamsburg.
---
Related articles: