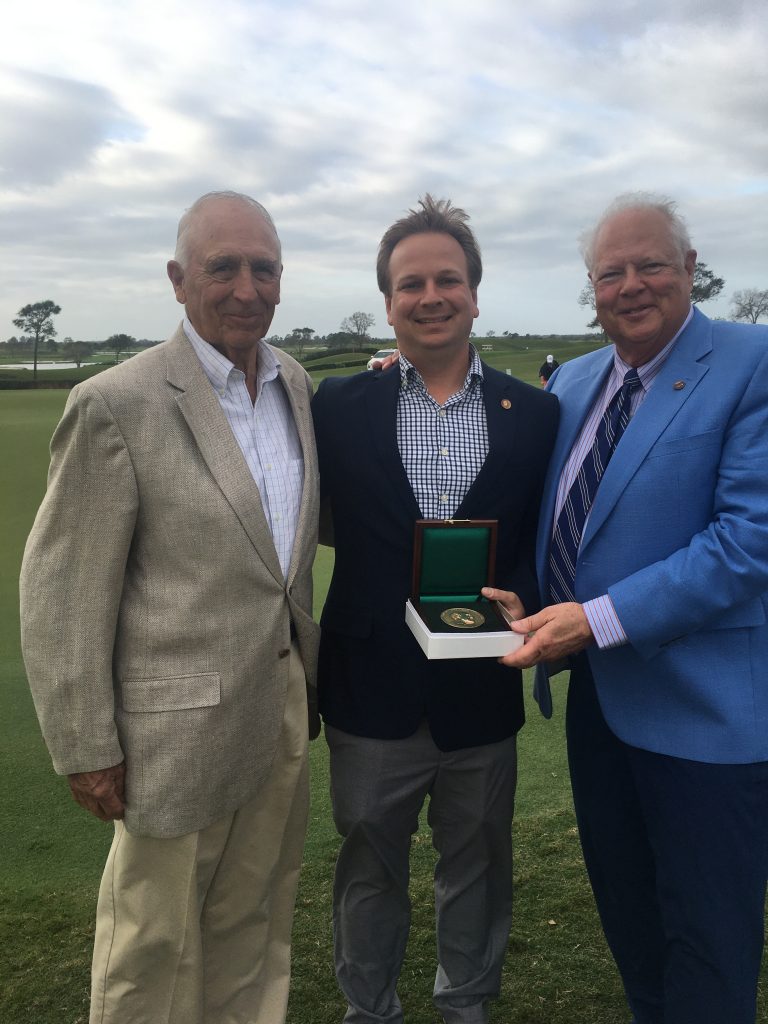 Hero Fund Commission members A.H. Burchfield III, left, and Dan D. Sandman, right, presented Carnegie Hero Darren M. Smith, center, with the Carnegie Medal Jan. 17, 2020, in Vero Beach, Fla. About 80 people gathered on the practice green at Quail Valley Golf Club where Smith was an assistant professional at the time of the rescue.
Three years ago, Smith was driving home from work when he came across an overturned and burning sport utility vehicle. Smith, 31 at the time, retrieved a 7-iron golf club from his trunk and broke out the vehicle's front, passenger window. He went to his stomach and crawled inside the smoke-filled vehicle, searching for the driver, a 17-year-old girl. He grasped her feet and dragged her alongside him to the window where someone else outside the car pulled her the rest of the way. Smith backed from the vehicle which was shortly engulfed by flames.
When he learned he would be receiving the Carnegie Medal last September, Smith told Treasure Coast Newspapers that he was just doing what anyone else would do. "This is a huge honor, I don't feel like I deserve it," he said.
"Most Carnegie heroes don't feel they did anything special – they either act automatically or feel anyone else would have performed the same heroic act. The fact is they are true heroes and not everyone responds positively to a dangerous, life-threatening situation. You did, and you are most deserving of the recognition," Sandman told Smith as they were organizing the presentation details.
Smith's parents drove down from Bay Hill, Fla., to attend the ceremony of their son, "a fine young man," according to Burchfield. "His mom and dad were so honored for what he did but, at the same time, Darren showed respect for both of them in thanking them for all they did to help make him the person he is today," Burchfield added.