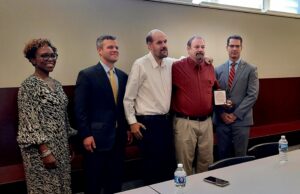 From left, Hero Fund Director of Operations Melissa Brock and Commission member Lee Tilghman pose with Carsten Molt, Carnegie Hero Kenneth S. Andreen, and Hero Fund President Eric Zahren during a Jan. 30 Carnegie Medal presentation to Andreen at the Woods Run branch of the Carnegie Library of Pittsburgh. Andreen removed Molt from his burning home last February.
At the informal presentation, Zahren commended Andreen's selflessness and kindness. "here to honor and celebrate the human capacity that was shown and exemplified by Kenneth to – in a moment of time – refuse to look the other way, to value another human being's life and put it at equal value with our own, and make the split-second moral choice to act when we're not obligated to act, without regard for consequences, no matter how dire they may be," he said.
On Feb. 24, 2022, Andreen saw flames and smoke rising from a two-story home in Pittsburgh while making deliveries for a meal service company. Neighbors told Andreen that someone was inside, so Andreen entered the home through the front door and made his way through gray, hazy smoke and intense heat to Molt, who was immobilized on the couch. Andreen grasped Molt by the arms, pulled him off the couch, threw him over his shoulder, and carried him to safety.
"It is the full and complete recognition of another's humanity on the part of one of our heroes that we recognize and celebrate, and it's not theoretical, it's done through action," Zahren said. "The Hero Fund still serves that dream today, but it's up to the selflessness, hard work, and sacrifice of heroes like Kenneth that can make it a reality."
Also in attendance at the presentation were Molt's mother Eileen Miller; Andreen's daughter Alyssa Andreen and her fiancé Brandon Heller; and the staff of Carnegie Hero Fund Commission.