16 recognized for acts of extraordinary heroism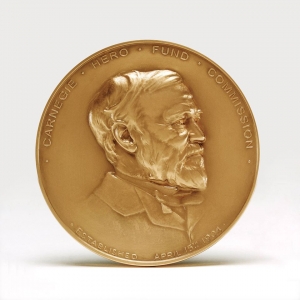 PITTSBURGH, September 20, 2018 — Sixteen people – 15 Americans and one Canadian – make up the most recent class of those named Carnegie Heroes for risking their lives for others found in perilous circumstances, including a 12-year-old boy who was being attacked by two large dogs, three 16-year-olds trapped in an overturned, burning car, and a 62-year-old man who was assaulted by two 17-year-olds after exiting a subway car.
Thirteen of the 17 victims survived due to the intervention of these heroes, who include Jason A. Sigelow, a 39-year-old caterer who led a rescue of a 9-year-old boy struggling in deep water in Lake Ontario. Sigelow died in the rescue attempt, but others were able to join his effort and save the boy. Other posthumous Carnegie Medal awardees include Sean Zacharey Thayne, a 30-year-old programmer who entered a cold river in an attempt to rescue a mother and her 4-year-old daughter who were being swept downstream; 17-year-old Jay Agli, who died attempting to rescue his 19-year-old sister from drowning; and Delbert G. Blare, 65, who also drowned while attempting to save a man who was carried 200 feet from shore by a rip current.
The Carnegie Medal is given throughout the United States and Canada to those who risk their lives to an extraordinary degree while saving or attempting to save the lives of others. The heroes announced today are the third group of awards made in 2018 and bring to 10,044 the total number since the Pittsburgh-based Fund's inception in 1904. Commission Chair Mark Laskow said each of the awardees or their survivors will also receive a financial grant. Throughout the 114 years since the Fund was established by industrialist-philanthropist Andrew Carnegie, $40.4 million has been given in one-time grants, scholarship aid, death benefits, and continuing assistance.
The awardees are:
Resumes of the acts follow. To nominate someone for the Carnegie Medal, complete a nomination form online, write the Carnegie Hero Fund Commission at 436 Seventh Ave., Suite 1101, Pittsburgh, PA 15219, or call 1-800-447-8900 (toll-free). More information on the Carnegie Medal and the history of the Carnegie Hero Fund Commission can be found at carnegiehero.org. Follow us on Facebook and Twitter.
---
Related articles:
---