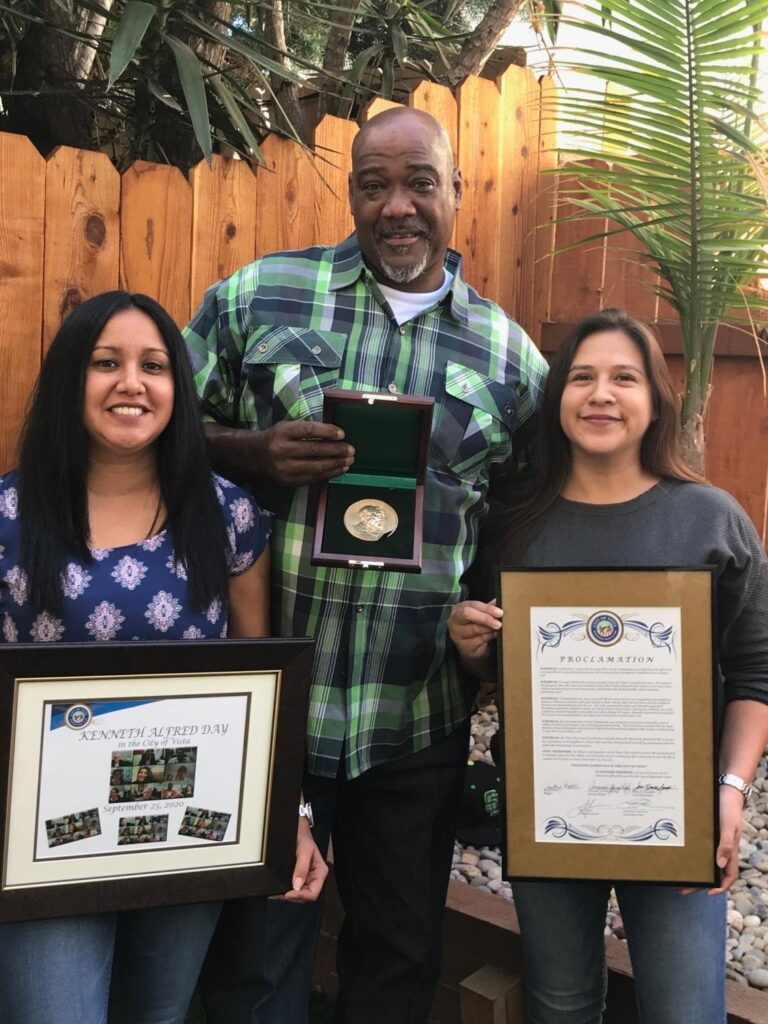 On the one-year anniversary of his heroic act, Vista (California) City Council officials publicly congratulated Carnegie Hero Kenneth Alfred for the Hero Fund commendation during a virtual meeting.
On Sept. 22, 2019, Alfred, center, then 56, saved his neighbor Roxana Valdovinos, right, from an assailant armed with a knife outside their housing community in Vista. Valdovinos and her wife, Sandra Ruiz, left, also joined the meeting. Valdovinos was in the driver's seat of her car in the parking lot when two men in a truck pulled up behind her and parked. One of the men opened the driver's door, pointed a knife at Valdovinos, and pulled on her shirt as he demanded she get out. Ruiz exited the car and screamed for help, alerting Alfred, who was nearby. Alfred ran to the driver's side of the car and grasped the assailant's neck. While Alfred shoved the assailant to the ground, the assailant stabbed Alfred in the abdomen. The second assailant then pulled Alfred's shirt over his head before Alfred separated from him. The assailants then fled the scene in the truck. Alfred recovered after undergoing surgery for his wound.
"In the scariest moment of my life, you heard our cries for help and you came over immediately without hesitation, and I love you for that," Valdovinos told Alfred during the meeting.
Mayor Judy Ritter and Vista officials passed a proclamation declaring Sept. 23, 2020, as "Kenneth Alfred Day" in Vista.
"Too many people look the other way and don't take initiative to help, man, and you put yourself in danger," Councilman Joe Green said. "One man to another, thank you for just being there and protecting your community."