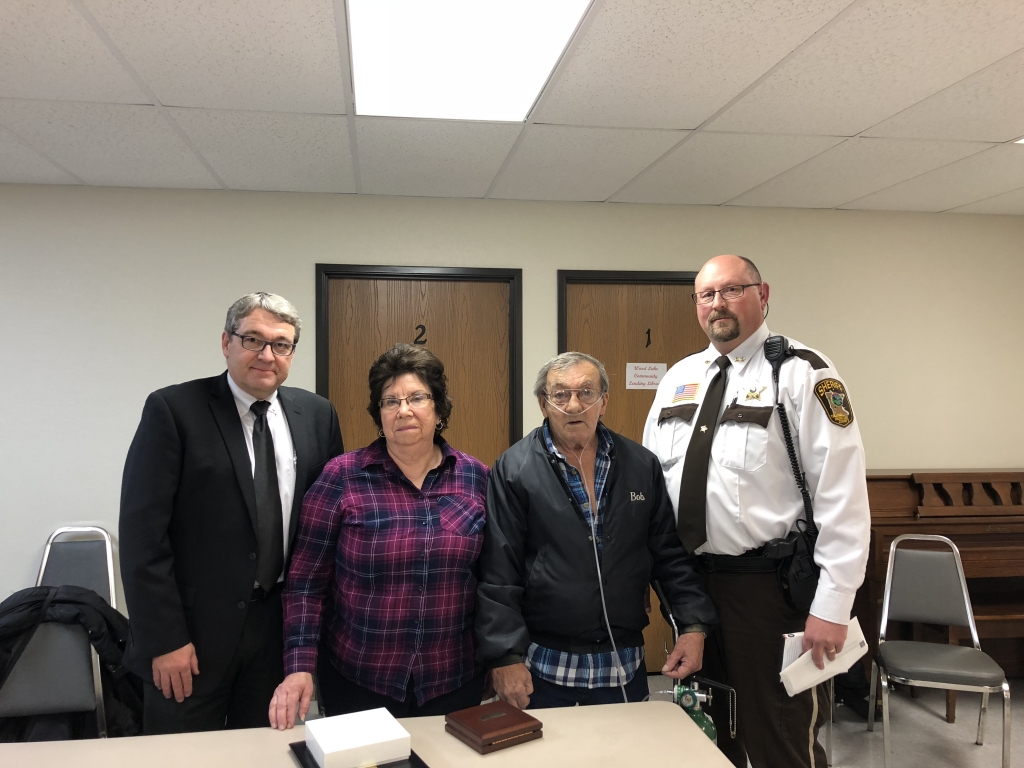 From left, volunteer presenter Paul A. Ansolabehere presented the Carnegie Medal to the family of posthumously awarded Carnegie Hero Jamie Alan Hyatt: mother Geraldine Hyatt and father Robert Hyatt, along with Yellow Medicine County Sheriff Bill Flaten on Nov. 13, 2017, at a Wood Lake, Minn., Council meeting.
Jamie Alan Hyatt died attempting to save friend David Syring from suffocation.  Hyatt entered a tanker-trailer after Syring collapsed and became unresponsive inside the tanker that was later found to be deficient in oxygen.  Despite near-darkness inside and no easy egress, Hyatt called for Syring and then entered through a small hatch in the tanker's top. Once inside, Hyatt began experiencing breathing difficulties almost immediately. He attempted to reach Syring, who was about 20 feet away, but ultimately lost consciousness and became unresponsive.
A Carnegie Hero as well, Ansolabehere was awarded the Carnegie Medal in 2011 after helping to pull a man from a burning airplane that had crash-landed in a ravine. He said the presentation to the Hyatts was emotional, with family from Syring's family also in attendance.
Read more.
---
Related articles:
---
Return to imPULSE index.
See PDF of this issue.