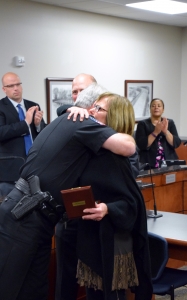 Jeanne Atkinson, left, hugs Arapahoe County (Colo.) Sheriff David C. Walcher after accepting her late husband's Carnegie Medal.
Kenneth R. Atkinson was fatally shot in April 2016 after he responded to a woman who was shot by her husband. The woman had fled across the street from her home, and as the assailant chased her and continued to shoot at her, Atkinson crossed the street.
As he was kneeling to tend her and call 911, another neighbor who had gone outside shouted to Atkinson that the assailant was approaching.
The assailant fired at Atkinson, striking him in a leg. Atkinson stood and sought cover at a vehicle parked nearby in the driveway, but the assailant went to him there and at close range shot him again before returning to his property.
Sheriff's deputies responded shortly and arrested the assailant. The woman required hospitalization for treatment of her wounds. Atkinson was mortally wounded.
Jeanne Atkinson accepted the Carnegie Medal at an Oct. 2, 2017 city council meeting in Centennial, Colo. City Mayor Cathy Noon, Walcher, and Councilman Mark Gotto presented the award.
Read more.
---
Related articles:
---
Return to imPULSE index.
See PDF of this issue.