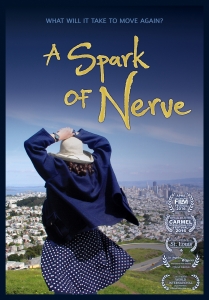 When 15-year-old Loren B. Schaller walked into San Francisco's Creighton's Bakery on a spring day in 2007, she did not know her life would permanently be changed. Unprovoked, a man armed with a knife stabbed her multiple times in the bakery, only stopping when another customer, Kermit R. Kubitz intervened.
An attorney, Kubitz, then-60, grabbed and then struggled with the assailant, who stabbed him twice. Kubitz removed the knife from his side and threw it to the sidewalk, the assailant fleeing the scene.
Kubitz and Loren were both taken to the hospital for treatment of their stab wounds. Kubitz recovered after a month. Loren suffered nerve damage, which resulted in paralysis of her right arm.
Loren's family is grateful to Kubitz, said Linda Schaller, Loren's mother and a filmmaker.
"He risked his life for her, a complete stranger," Schaller said. 
Schaller said she struggled with the possibility her daughter might not use her arm again. 
"It was hard with her being dependent again," Schaller said. "She was paralyzed from her shoulder to her wrist. There was really nowhere to go but up at that point."
However, hope was found when they found surgeon Susan Mackinnon, a doctor at Washington University School of Medicine in St. Louis. She performed nerve transfer surgery, which saved Loren's arm.
Schaller said she wanted to spread the word of this surgery through a 2015 documentary, "A Spark of Nerve," which recounts the assault and shows how the surgery helped to save Loren's arm, as well as other cases showing how the procedure has positively impacted patients who could have lost limbs without it.
Loren said she still deals with pain due to scar tissue, but has 95 percent use of her arm.  She said she is grateful for how far she has come. She aspires to be a costume designer, and that would not be possible if she were still paralyzed. 
"Imagine trying to sew without arm function. I think it's safe to say that [Dr. Mackinnon] changed my life."
Kubitz said has seen the documentary and described it as wonderful.
"It's great to see so many people working together to help someone," he said. 
He said she was grateful that he was able to help Loren in that traumatic situation. 
"She was such a smart little kid, well not so little anymore," he said.
He described the rescue as a group effort, referring to Jonas Svallin, who ran after the attacker following the incident, and Dr. Sang-ick Chang, who kept Loren from bleeding out.
In the documentary, Mackinnon explained the surgery reroutes nerves to save arms and legs, avoiding needless amputations. 
"She rewired me," Loren said.  "It's sad that people with similar injuries have no idea that this is even possible."
Schaller and husband Tim Schaller, who co-produced the film, had both worked in video production well before the bakery assault.  Linda Schaller worked with numerous production and visual arts programs for PBS stations and also worked for productions with Kaiser Permanente Hospital's multimedia department.  Tim Schaller's previous experience included shooting and editing film, animation, and he also was a colorist.
"A Spark of Nerve" has been shown at several festivals throughout the country and won Best Documentary Overall in the Los Angeles World International Film Festival. 
They created Fogline Features LLC to create the self-funded documentary, which took five years to complete.
"A Spark of Nerve" can be purchased through its website, sparkofnerve.com.     
— Missy McLaughlin, case investigator