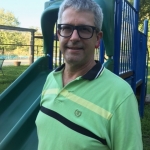 Carnegie Hero John Paul Hollyfield was awarded the Carnegie Medal in September 2017 after he saved a 6-year-old girl from being struck by a falling tree limb in July 2015 in Accokeek, Md. But he isn't the first in his family to receive the Carnegie Medal.
More than 90 years earlier, Hollyfield's great-grandfather, James M. Hermansen, was also awarded the Carnegie Medal, posthumously, after he attempted to rescue a 10-year-old boy from being struck by a runaway wagon in Widtsoe, Utah.
A team of spirited horses hitched to a wagon ran away with the boy, Derald E. Lay, in the wagon. While the horses were running at a speed of 12 m.p.h., Hermansen, a 54-year-old farmer, ran to one side of their path to grasp the lines at the bit and turn the team into a fence. The team turned suddenly toward him and struck him. He fell between the horses and was rolled by the under part of the wagon as it passed over him. His spinal cord was severed, and his head was cut. He died three weeks later as a result of his injuries. The team was finally stopped, and Derald was uninjured.
In a Facebook group belonging to the Hermansen family, Hollyfield posted that he feels "blessed that I did not meet the same fate as my grandfather."
Family members affixed a Carnegie Hero grave marker on Hermansen's head stone in September 2017 in Elsinore, Utah.
---
Related articles:
---
Return to imPULSE index.
See PDF of this issue.