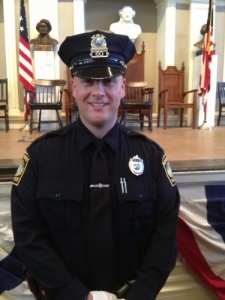 Police officer Sean R. Dias, 37, was first on the scene of a burning home Nov. 19, 2017, in Braintree, Mass. Dias located a 69-year-old man sitting in a wheelchair just inside the front door of the home. While Dias aided him outside, the man told Dias that his wife, Diane V. Gray, 70, and son, 45, remained inside the structure.
Despite flames at the roof and window to the son's room, Dias entered the house and saw flames at that room's doorway. He called out for Gray, who answered. Dias followed her voice and located her sitting in the living room. Dias lifted Gray to his shoulder, but, disoriented by darkness and smoke, he had difficulty retracing his path to the front door.
Ultimately Dias found the door and exited with Gray. He went to his knees, while others aided Gray farther from the house. Their son could not be rescued and died in the fire. Gray was hospitalized for inhaling smoke, but she was not burned. Dias was treated at the hospital for smoke inhalation. He recovered.
90339-10121
---
Related articles:
---