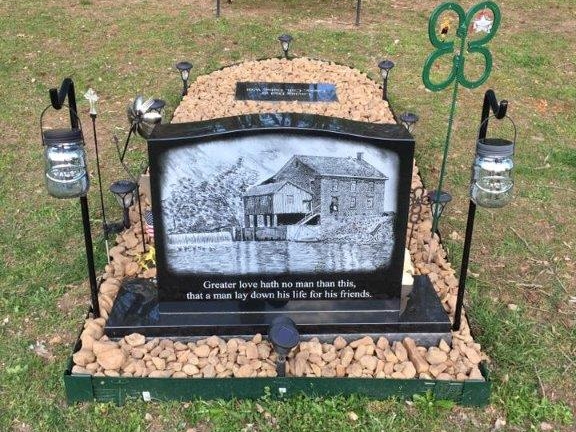 Jeromy E. Richardson died attempting to save Christopher S. Hurt from drowning, Whitwell, Tennessee, July 16, 2015.
Hurt, 23, was swept over a low-head dam spanning the Sequatchie River and became caught in the rolling boil of water at its base.
In another party at the scene, Richardson, 35, iron worker of Whitwell, was fishing from the bank.  He entered the water below the dam and attempted to reach Hurt but then returned to the bank and made his way to the top of a concrete structure at the end of the dam.  Taking a board with him, he stepped down to the top of the dam and slid his feet along it to a point closer to Hurt.  He extended the board to Hurt but then lost his footing and fell into the boil.  Both he and Hurt submerged.
Hurt's body was recovered from the river the next day, and Richardson's body two days later.  They had drowned.
87575-9920
From left, volunteer presenter Charles S. Harris of Ooltewah, Tenn., looks on as the family of Jeromy E. Richardson, — brother Cory Richardson, mother Robin Richardson, and father Eric Richardson – accepts  the Carnegie Medal on Jeromy E. Richardson's behalf at a ceremony held June 10 at Courthouse Square in Jasper, Tenn.
In July 2015, Richardson died while attempting to save a man from drowning at a low-head dam spanning the Sequatchie River near Whitwell, Tenn.  Richardson was at the bank, when he saw that another man was caught in the rolling boil at the base of the dam. From the top of the dam, Richardson extended a board to the man, but lost his footing and fell into the boil, drowning, along with the man he was trying to save.
"Jeromy E. Richardson is a true hero in every sense of the word," Harris said during the presentation. "He unselfishly – without any real thought of his destiny – put his life on the line for a stranger in trouble."
Richardson's family as well as the parents of the man Richardson attempted to save attended the presentation.
Harris was awarded the Carnegie Medal himself, in 1963, for a water rescue.