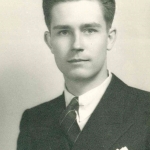 'It's never too late to honor a hero'
A diverse group of family, friends, and strangers gathered in a quiet corner of Bunker Hill Cemetery on a hot day in late August to honor the heroes of Macoupin County, in the southern part of Illinois.  The county has a proud association with the Hero Fund by virtue of the heroism of four of its native sons:  Ivah J. Coles, who was awarded the Carnegie Medal in 1905; Robert Bruce Ogg (1932); Robert H. Rutherford (1932); and Arthur Eugene Burke (1939).
The occasion included the dedication of a memorial stone, bearing a Hero Fund marker, that was recently placed on Coles's grave, the culmination of efforts by an unlikely group of collaborators from Illinois and Pennsylvania who rallied around the legacy of the 21-year-old man from Carlinville, Ill.:  Coles died June 8, 1904, attempting to save a friend from drowning.
Matthew Campbell, a numismatist (collector of medals, coins, and such) from Washington, Pa., had purchased Coles's medal earlier in the year after finding it for sale on Ebay.  Rather than rest on his acquisition of a mint-condition specimen of some value (and having outbid the Hero Fund in the process), Campbell saw in the medal the heroic sacrifice that it represented.  He proceeded to research Coles and the medal by visiting the Hero Fund's offices in Pittsburgh and then contacting Dave Jokisch of the Macoupin County Historical Society.
A byproduct of Campbell's research came in the form of articles published in two numismatic journals, with one of the articles excerpted in this issue of imPULSE.  And for his "research and educational efforts in promoting the Carnegie Medal," Campbell was given both an outstanding achievement award in October by the Pennsylvania Association of Numismatists (PAN) and an exhibit award.
Campbell and Jokisch discovered that Coles had been buried in a family plot in Bunker Hill Cemetery, but in an unmarked grave, and through their efforts they secured a headstone.  The Hero Fund through its executive director, Eric Zahren, provided the bronze marker, and the Aug. 24, 2017, date for a dedication was set.  Additional research identified three past Carnegie Medal awardees from the Macoupin County area, and the historical society was able to locate some of their family members and invite them to the memorial event.
Zahren represented the Hero Fund at the ceremony and in his remarks noted that, though long overdue, it is "never too late to honor a hero," a sentiment echoed by several of the others in attendance.  Zahren also gave grave markers and certificates to the families of the other heroes represented:
Robert Bruce Ogg of Gillespie, Ill., who saved a 9-year-old boy from drowning in the lake of a country club in Gillespie on June 4, 1931. Ogg, also 9, was a fifth-grader.
Robert H. Rutherford of Girard, Ill., who rescued a man from a collapsing well in Girard on July 18, 1931. The man was buried at the bottom of a 20-foot-well by bricks and earth that collapsed into it.  Rutherford, 19, descended to the top of the debris, freed the man, and then with him climbed out of the well to safety as the well continued to collapse.  With tuition assistance from the Hero Fund, Rutherford went on to attend medical school at Washington University, St. Louis, Mo., and on graduating in 1936 practiced medicine in Macoupin County for 50 years.
Arthur Eugene Burke of Girard, who saved an elderly man from being struck by a train in Girard on March 2, 1939. The 76-year-old man was walking rapidly toward the track on which a train was approaching at 60 m.p.h.  Burke, 16, ran to him, grasped him, and fell on top of him away from the track, clearing the train by about five feet.  Burke served at Okinawa during World War II but, tragically, perished in an airplane crash on Sept. 12, 1945, one day before he was to return home.   Burke's medal has recently been donated to the Hero Fund for permanent display by his nephew, Bill Burke of Auburn, Ill.
---
Return to imPULSE index.
See PDF of this issue.