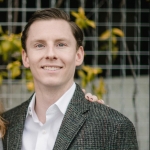 David Blauzvern, Gary J. Messina, and John J. Green III saved a man from drowning, New York City, New York, June 1, 2016.
The man was bobbing in the East River at a point about 60 feet from a seawall, the top of which was about 8 feet above the surface of the water.
Jogging at the scene, Blauzvern, 23, investment banking analyst of Roslyn Heights, N.Y., immediately climbed over a railing and jumped from the seawall into the 23-foot-deep water, followed by Messina, 56, on-duty police captain of West Islip, N.Y., and Green, 29, insurance broker of New York City, both of whom had also been jogging nearby.
The three rescuers swam to where the man, who had by then submerged, was last seen, Blauzvern arriving there first.  He submerged and pulled the man, who greatly outweighed him, by his shirt to the surface of the water and then grasped him from behind and supported him as he trod water.  Messina and Green then each grasped the man by an arm.
Together, they swam back toward the seawall with the man, but the swift current carried them downstream, to a point at the wall about 600 feet from where they entered the river.  As there was no egress from the water there, they remained in position, Green securing a hold to the wall while Blauzvern and Messina trod water.
A police rescue boat arrived within minutes, but as it could not get close to the wall, Blauzvern, Messina, and Green swam and were carried by the current as they took the man to the boat.  All four were assisted from the water and taken to safety, the man requiring hospital treatment.  Blauzvern was cold and nearly exhausted, and Green sustained minor cuts to his hands and feet.  They recovered.
88313-9945 /  88314-9946  /  88315-9947
---
---