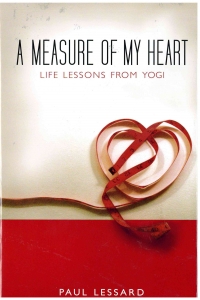 Carnegie Medal recipient and Lighthouse Project founder Paul J. Lessard has recently turned his pen toward the subject of long-time friend and mentor, Yogi Yarborough, in his latest book, A Measure Of My Heart.  Yarborough, whose battle with amyotrophic lateral sclerosis—ALS, or Lou Gehrig 's disease—ended with his death in 2006, is the focus of Lessard' s spiritual reflections.  Those reflections include the nature of adversity and the importance of focusing on the core values that he believes really matter in life, among them friendship and courage, and maybe most importantly, giving.
Lessard was awarded the medal for his April 16, 1993, actions in High Point, N.C., in behalf of a 62-year-old woman in danger of drowning.  Not only through his heroic act, but through his life, he has embodied those same core values.  He has given the full measure of himself when called upon.  Beyond that, he is the founder of the nonprofit Lighthouse Project, which he started with money from his Carnegie award grant.  With the Lighthouse Project, Lessard has worked tirelessly for more than 20 years to bring nationally known motivational speakers to local schools in Guilford County, N.C.  Professionally, Lessard is the founding president of the High Point Community Foundation.
In his brief but deeply personal book, Lessard carries his message of giving further by discussing the life lessons he learned through his friendship with Yarborough.  The book, at its close, allows the reader to recognize not just Yarborough's contribution to the world, but Lessard's as well.  Readers will come away inspired after having met two men who truly made a difference.  Proceeds from the book, released in January and available on Amazon, will go toward funding ALS research and the Lighthouse Project.—Jeffrey A. Dooley, Investigations Manager
---
Return to imPULSE index.
See PDF of this issue.