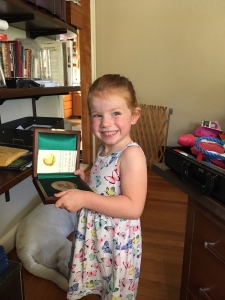 Grace Helen Hodges Chamberlin poses with her great-grandfather's Carnegie Medal. Carnegie Hero Francis Traill Hodges was awarded the Carnegie Medal in 1932 after he saved a 23-year-old man and attempted to save a 14-year-old boy from suffocating in a 35 foot-deep, dry well in New Castle, Ind. Although he was warned that it would be suicidal for him to enter the well and after two others had entered and failed at rescue attempts of the boy, Hodges, then 24, of New Castle, insisted on entering without a smoke mask. He was lowered to the bottom of the well, and with an end of a rope that was attached to a windlass rope, he tied the second rescuer to himself and others hoisted them to the surface. Hodges took a few breaths and then was lowered again to the bottom of the well, where, in the same manner, he recovered the boy, who had died.
Grace, 3, brought Hodges's medal to Central Nursery School in San Jose, Calif., for show and tell, reported her grandfather, Ed Hodges, of San Jose.
Her teacher "told me that the kids loved the 'big penny,'" Ed Hodges said.
---
Related articles:
---