Bittersweet moment
Ryan Thomas Nelson, third from right, was named an awardee of the Carnegie Medal in June for pulling his good friend and college roommate, Matthew J. Heisler, from their burning off-campus house in Grand Forks, N.D., on March 16, 2014.  The medal was presented to him in August by John P. Williams, third from left, deputy investigator for the La Crosse County (Wis.) Sheriff's Department; Williams himself was awarded the medal, in 2012, for a drowning rescue, and he has subsequently volunteered his services to make presentations to new awardees in his area.  Ryan's parents, Tom and Carla Nelson, right, were on hand for presentation, as were Matthew's, Jared and Cheryl Heisler.  The fathers of both young men are also close friends and were college roommates.  As Matthew died of his injuries after the rescue, the event "brought a few tears but was a great moment," according to Williams, who said that he and his wife got to meet "another incredible family."  Photo by Patricia Williams.
---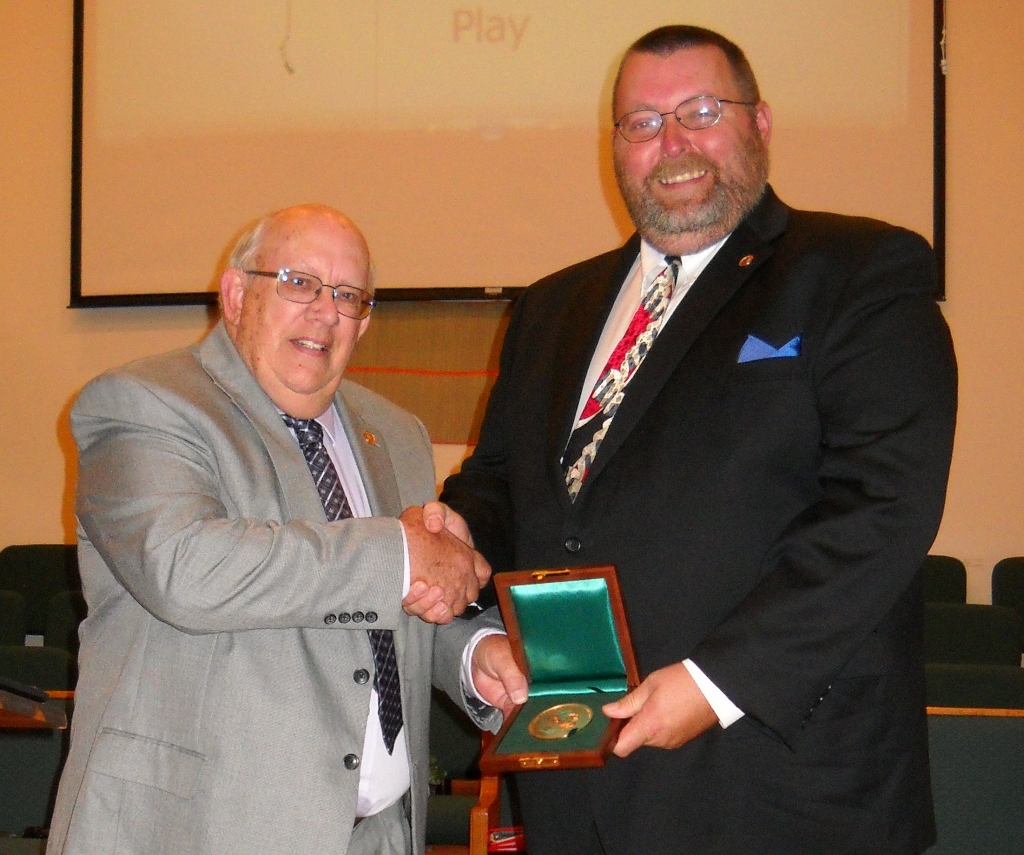 Not the absence of fear, but the mastery of it
By Charles S. Harris, Ooltewah, Tenn.
Carnegie Medal awardee #4675
One of the proudest moments of my life was being able to make the presentation of the Carnegie Medal to McKenzie McKay Guffey.
The concept of a hero has often been diluted by some in our culture.  Their heroes are singers, sports standouts, or someone who posts diatribe on social media.  In my opinion, these are not heroes.  They are merely people who have a talent and climb to the top of their abilities in the eyes of their followers, often for money.
Heroes are those who put their lives on the line to save the lives of others.  They may have had training in the use of their abilities such as a soldier, a firefighter, or a police officer would receive, but likely these heroes have had very minimal training of their abilities to carry out their feats.
A real hero has had a disastrous situation presented to him or her with no warning.  Basically, he or she has three choices:  run away, freeze and be able to do nothing… or without thought of consequences run into the midst of it, jump into action, and take charge.  This is exactly what Mac Guffey did on July 17, 2014, in Rye, N.Y.
Mac, a truck driver, came upon an overturned and burning sport utility vehicle.  Without thought, he locked his big rig down and jumped out with his fire extinguisher.  Emptying its contents on the fire without results, he used it to break out the passenger window, which was then on the top of the wreckage.  Then, despite flames burning at Mac's feet, he stepped onto the wreckage at the windshield, reached in, grasped the driver, pulled him through the opening, and dragged him to safety.  The vehicle was quickly filled with flames and was destroyed.
A quote from James M. McPherson's book, For Cause & Comrades, Why Men Fought in the Civil War, comes to mind.  Using the soldiers' letters and diaries, McPherson wrote, "Many Civil War soldiers grasped it intuitively, and more acquired it by experience, the modern thought that courage is not the absence of fear, but the mastery of it."
Congratulations, Mac.  You deserve this Carnegie Medal, which is the civilian equivalent of the military's Congressional Medal of Honor.
Guffey, of Gainesboro, Tenn., was named a medal awardee in June, and the medal was presented by Harris in August.  The above was taken from Harris's remarks during the event, held in a church in Cookeville, Tenn.   Harris was awarded a silver Carnegie Medal in 1962 for saving a young girl from a vehicle that had submerged in Big Spring Creek at Guntersville, Ala., on Sept. 2, 1962, and attempting to save the girl's sister.  He was 21, a junior in college.
---
Return to imPULSE index.
See PDF of this issue.