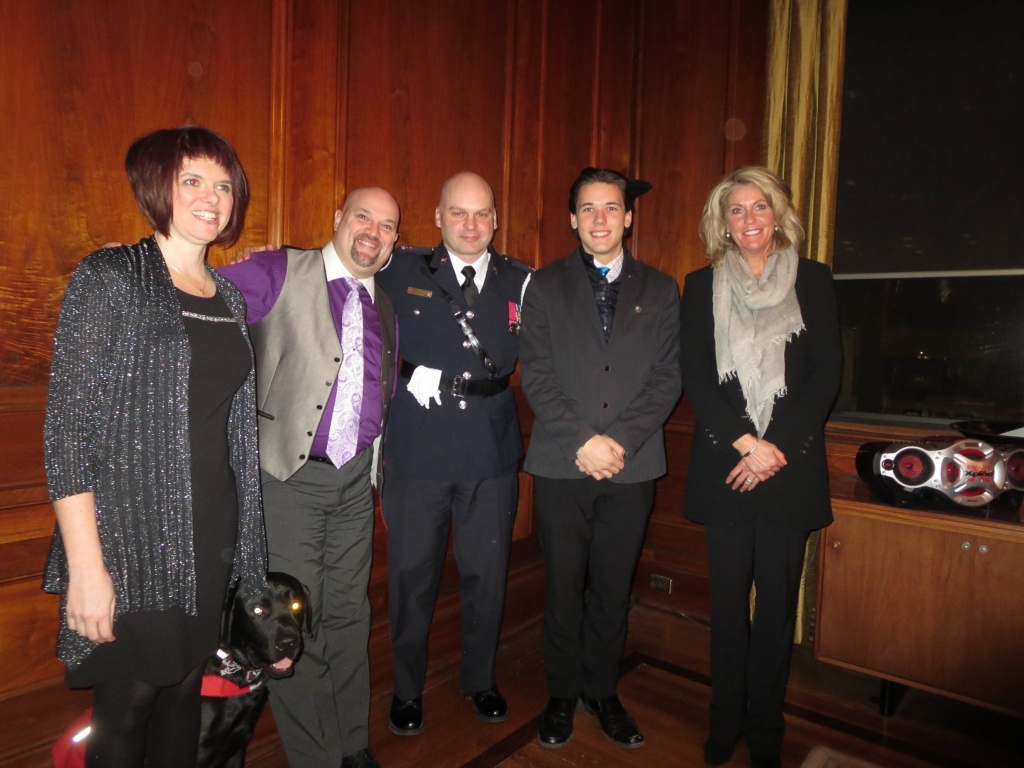 Canada's newest heroes
Liane Heather Wood, an insurance broker; her husband, Daniel Marvin Wood, a pastor; Clifford W. J. Peterson, a police constable; and Isaac G. Pinsonneault, a college student (from left, above), all from Ontario, were given their Carnegie Medals in a private ceremony in Toronto, Ont., in January 2016 by Carnegie Hero Fund Commission board member Nathalie Lemieux, right, and the Hero Fund's director of External Affairs, Douglas R. Chambers.  Proud family members of the awardees were in attendance.
The four, diverse in age and occupation, testify that heroic acts are performed by all manner of individuals and are thus representative of the 759 awardees of the medal from throughout Canada during the Hero Fund's 112-year history.  Lemieux herself is native of Canada.
Isaac, a 16-year-old student at the time of his act, rescued a young man from the rough waters of Lake Huron in the summer of 2014.   On a cold February night in 2013, the Woods entered the Trent River in Frankford, Ont., to save a 13-year-old girl from an overturned and partially submerged car.  While on duty on Dec. 8, 2013, Peterson went above and beyond the call to keep a man from falling 100 feet from a bridge abutment to the floor of a wooded valley.
Watch a video of the medal presentation here.
---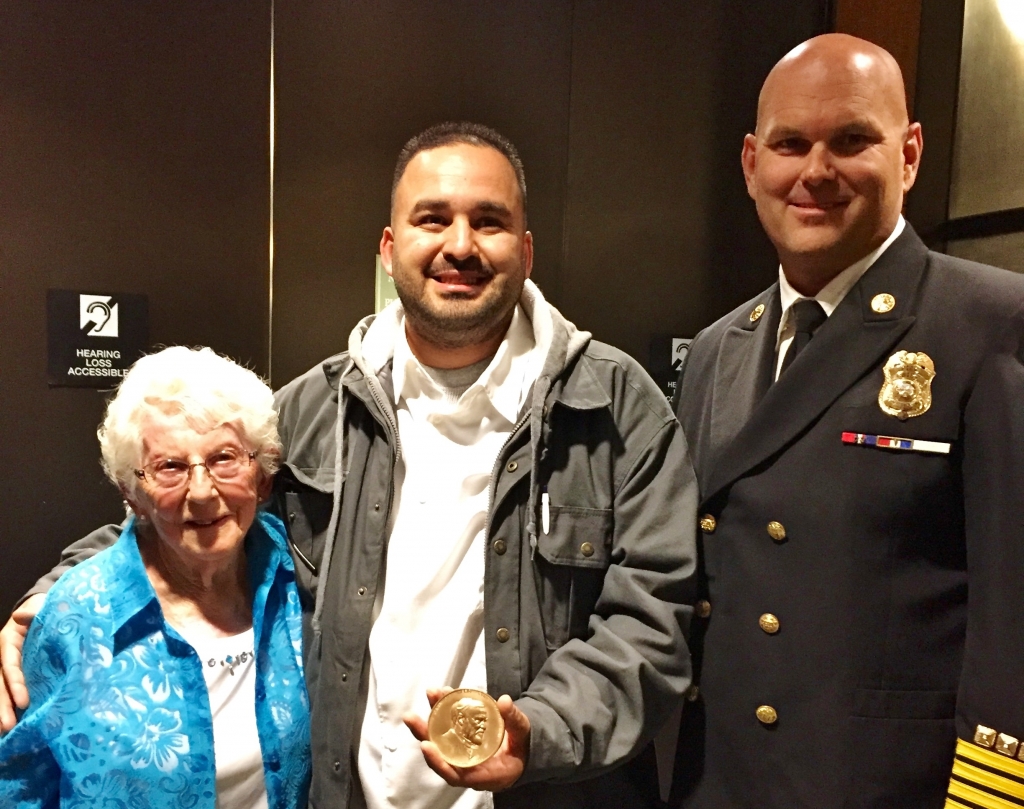 Good neighbor
"I'm not a hero but I couldn't live with myself if I didn't try."  Gregorio V. Monge of San Bernardino, Calif., told that to a reporter after he was given his Carnegie Medal by San Bernardino Fire Chief Tom Hannemann, right, at a city council meeting in November.  Monge was cited by the Hero Fund for entering his neighbor's burning ranch house at night on May 4, 2014, and pulling Jack D. Stine, 91, from the structure.  Stine died at the scene, and Monge, then 35, suffered smoke inhalation that required treatment.  Stine's widow, Dona, left, was on hand for the presentation.  Photo courtesy of San Bernardino Sun.
---
Good samaritan
A year and a day after he was spared from dying in the cab of his overturned and burning tri-axle dump truck, Michael L. Wiant, left, stepped into the pulpit of Grace Community Church in rural Curllsville, Pa., and, in a breaking voice, publicly thanked God and his rescuer, Charles E. Wyant, center, for "a second chance at life."   Wyant was given a Carnegie Medal in recognition of his Jan. 2, 2015, rescue, and Wiant presented it to him after the morning worship service.  Nearly 100 members of the congregation and friends were in attendance.
An active member of the church, Wyant, an equine dentist from New Bethlehem, Pa., drove upon the scene of the accident, finding nine-foot flames issuing from the engine area of the truck, which lay on its passenger side.  Then 39, he scaled the underside of the vehicle, grasped Wiant, who outweighed him significantly, and tugged, freeing Wiant through the window of the driver's door.  Was it adrenaline?  "I called out to God," Wyant said, "and he flew out."
The medal presentation held significance for Terry E. George, right, Wyant's neighbor, as George himself is a Carnegie Medal awardee.  On Oct. 7, 2004, he and another man entered the burning remains of a house after a natural gas explosion and worked to free an 8-year-old girl who was trapped by debris in her bedroom.  They fled with her moments before the house was engulfed by flame.
Watch a video of the medal presentation here.
---
Return to imPULSE index.
See PDF of this issue.