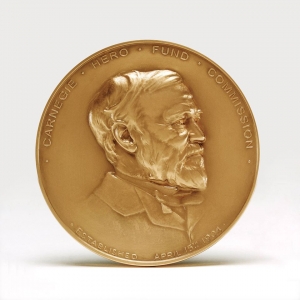 PITTSBURGH—Four police officers who went above and beyond the line of duty to rescue people are among the most recently named Carnegie heroes. In separate incidents, two of those officers entered burning mobile homes to rescue their occupants. The other officers forced their way into burning vehicles to save those trapped inside.
The Carnegie Hero Fund Commission today recognized 15 Americans and three Canadians for risking their lives while trying to save others from perilous, life-threatening situations including the late David Covington, who several months before his death from natural causes and at age 72, swung and struck at two dogs attacking a 6-year-old until they released her, and Kote Mhitari, who, while on a family vacation in Hawaii went into cardiac arrest after jumping from a 15-foot-cliff attempting to save his adult son from drowning. He was revived and survived the incident.
The Carnegie Medal is given throughout the U.S. and Canada to those who risk their lives to an extraordinary degree while saving or attempting to save the lives of others. With this third announcement of 2019 recipients, a total of 10,117 Carnegie Medals have been awarded since the Pittsburgh-based Fund's inception in 1904. Commission Chair Mark Laskow said each of the awardees or their survivors will also receive a financial grant. Throughout the more than 115 years since the Fund was established by industrialist-philanthropist Andrew Carnegie, $41 million has been given in one-time grants, scholarship aid, death benefits, and continuing assistance.
The awardees are:
To nominate someone for the Carnegie Medal, complete a nomination form online, write the Carnegie Hero Fund Commission at 436 Seventh Ave., Suite 1101, Pittsburgh, PA 15219, or call 1-800-447-8900 (toll-free). More information on the Carnegie Medal and the history of the Carnegie Hero Fund Commission can be found at carnegiehero.org. Follow us on Facebook and Twitter.
---