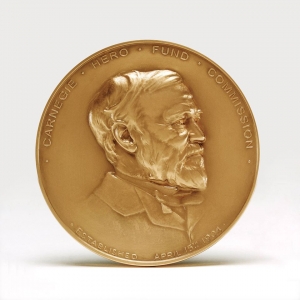 PITTSBURGH, March 18, 2019—The Carnegie Hero Fund Commission today recognized 19 Americans as Carnegie heroes for risking their lives while trying to save others, including six children and three truck drivers trapped in their burning rigs that caught fire after highway accidents.
One of the 19 heroes, Van U. Thang, was 17 years old at the time of his rescue. Three others gave their lives during their rescue act: Steven B. Wahler and Bradley Eugene Murphy, who both responded to a mother's cries for help as a wave carried her 12-year-old son away from the beach in the Gulf of Mexico, and Malik Andre Williams, who jumped into the Mississippi River after his 6-year-old son who had fallen into the water. All three men drowned, but the children they died trying to rescue were saved.
The Carnegie Medal is given throughout the U.S. and Canada to those who risk their lives to an extraordinary degree while saving or attempting to save the lives of others. With this first announcement of 2019 recipients, a total of 10,081 Carnegie Medals have been awarded since the Pittsburgh-based Fund's inception in 1904. Commission Chair Mark Laskow said each of the awardees or their survivors will also receive a financial grant. Throughout the more than 115 years since the Fund was established by industrialist-philanthropist Andrew Carnegie, $40.8 million has been given in one-time grants, scholarship aid, death benefits, and continuing assistance.
The awardees are:
Resumes of the acts follow. To nominate someone for the Carnegie Medal, complete a nomination form online, write the Carnegie Hero Fund Commission at 436 Seventh Ave., Suite 1101, Pittsburgh, PA 15219, or call 1-800-447-8900 (toll-free). More information on the Carnegie Medal and the history of the Carnegie Hero Fund Commission can be found at carnegiehero.org. Follow us on Facebook and Twitter.
---