CARNEGIE HERO FUND COMMISSION NAMES 10,000TH HERO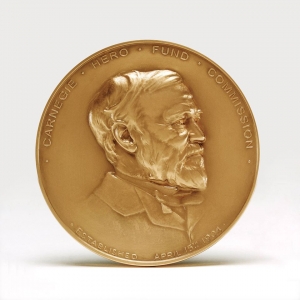 PITTSBURGH, MARCH 26, 2018— Last winter, a 56-year-old school cafeteria clerk stopped her car after seeing a wounded police officer struggling to take a man into custody. The 5'2" woman rushed to the men, removed the suspect's hand from the officer's holstered gun and held it behind his back. As the man continued to punch the officer, Vickie Tillman, of Baton Rouge, La., impeded his attack, until other police officers arrived. It took two other police officers to subdue the assailant and take him into custody.
As a representative of the persistence, glory, friendship, and strength common to the acts of heroism performed by every Carnegie Medal awardee, Tillman has been named the Commission's 10,000th Carnegie Hero. She joins a class of Carnegie Heroes that includes Jimmy Rhodes, a 38-year-old radiographic technologist who suffered burns while attempting to save the pilot of a fiery helicopter crash; a 44-year-old business owner who helped save a woman from falling from a bridge; and a 51-year-old cable lineman who died attempting to save his co-worker from drowning.
Tillman and Rhodes, who was named the Commission's 10,001st hero, will be presented the Carnegie Medal at a gala to be held in June in Pittsburgh.
The Carnegie Medal is given throughout the United States and Canada to those who risk their lives to an extraordinary degree while saving or attempting to save the lives of others. The heroes announced today are the first awards made in 2018 and bring to 10,009 the total number since the Pittsburgh-based Fund's inception in 1904. Commission Chair Mark Laskow said each of the awardees or their survivors will also receive a financial grant. Throughout the 114 years since the Fund was established by industrialist-philanthropist Andrew Carnegie, $39.9 million has been given in one-time grants, scholarship aid, death benefits, and continuing assistance.
The awardees are:
| | |
| --- | --- |
| Austin Raishbrook | Blue Jay, Calif. |
| John Gerard O'Rourke | Milford, Conn. |
| Louis Marano | Philadelphia, Pa. |
| Thomas W. Brown | Philadelphia, Pa. |
| Zachary J. Corey | Beulah, Mich. |
| Karen Marie Mallon | Beulah, Mich. |
| Andrew L. Melhado | Milton, Mass. |
| Michael Albert Rodriguez | Howell, Mich. |
| Vickie Tillman | Baton Rouge, La. |
| Jimmy Rhodes | Lumberton, N.C. |
| Joshua K. Watt | Bowling Green, Ky. |
| Jason Alan Doig | Sequim, Wash. |
| William M. Mack III | Aston, Pa. |
| Thomas Julius Sais, Jr. | Palm Bay, Fla. |
| Matthew John Kalafat | Scotch Plains, N.J. |
| Ross A. Johnson | Colorado Springs, Colo. |
| Robert Lee Thornton, Jr. | Warren, Mich. |
| John Andrew Ussery, deceased | Sanford, Fla. |
Resumes of the acts follow. To nominate someone for the Carnegie Medal, complete a nomination form online, write the Carnegie Hero Fund Commission at 436 Seventh Ave., Suite 1101, Pittsburgh, PA 15219, or call 1-800-447-8900 (toll-free). More information on the Carnegie Medal and the history of the Carnegie Hero Fund Commission can be found at carnegiehero.org. Find us on Facebook and Twitter.
---
Related articles: